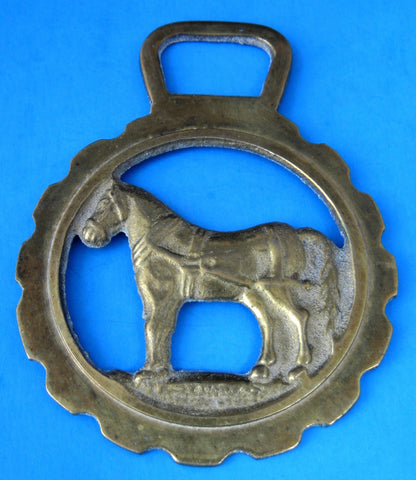 Horse Brass Standing Horse In Harness Vintage Sussex Edwardian 1910-1920s
SKU: 8060-121
This is an Edwardian era English horse brass depicting a standing horse in a crenelatted circle frame in harness.
This souvenir horse brass or pub brass is a nice quality brass of a horse in harness standing, which is called non-heraldic in a notched circle.
The horse brass is usually associated with Sussex, was made in England 1920-1930s, measures 3.5 inches high by 2.75 inches wide and is in very good +++ used vintage condition.           
Horse brasses were developed in the 17th century to decorate and identify draft horses. This brass dates to 1920-1930s and is in very good +++ condition. Horse brasses are a popular collectible today. In England they decorate the beams of pubs and hang by the fireplaces of homes.