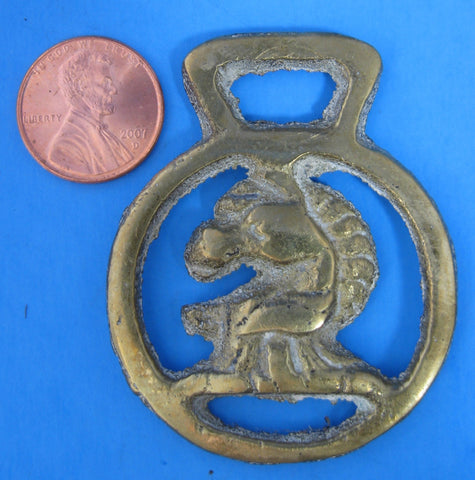 Vintage Horse Brass Pony Brass Horse Head 1930s Small Harness Brass
SKU: 7895-162
This vintage 1930-1940s small horse brass is called a pony brass rather than a horse brass, as it was designed for use on ponies instead of larger horses.
The pony brass depicts a roughly cast horsehead.
The pony brass was made 1930-1940s and measures 2.15 inches high by 1.25 inches wide.  
Pony brasses are much more difficult to find as far fewer were made.   
Horse brasses originated during the 17th century to decorate and identify draft horses as well as being a charm.
Horse brasses are a popular collectible today. In England they decorate the beams of pubs and hang by the fireplace in homes. They also show up as Christmas tree ornaments, and pony brasses are sometimes used as key fobs.